The Parish Council has been contacted on behalf of a developer working in Lower Tysoe about public footpath SS35a.  This footpath runs diagonally across the front of properties on Lane End (see map).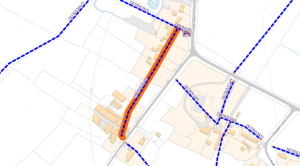 The developer has been in contact with Warwickshire County Council about diverting the footpath but after review, the footpath officer has suggested that the footpath be extinguished along the full-length of the front gardens of the houses to the west of Lane End.
Before we respond to this enquiry we would like your views. Please email the Parish Clerk.