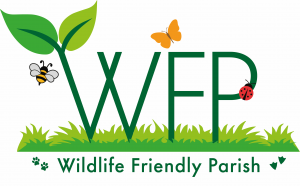 Making Space for Nature in Tysoe
The parish of Tysoe covers an area of just under 5,000 hectares and is an agricultural landscape with arable crops and grassland. The eastern part of the parish is within the Cotswolds Area of Outstanding Natural Beauty (AONB); at its most northern end. One of the local land owners, the Upton Estate, proactively supports wildlife, and, adjacent to the village, and visible from footpaths from the village, are significant conservation headlands around the perimeter of arable fields.  There is mixed woodland on the western slopes of the Edgehill escarpment.  The parish hosts several private wildflower meadows, including the Sun Rising Natural Burial Ground, and the Warwickshire Wildlife Trust's Radway Meadows Nature Reserve lies within the parish boundary.
Our ambition is to address the well-publicised decline, over the last 50 or so years, in the abundance and diversity of wildlife in Britain, by building on our existing resources and turning Tysoe into a Wildlife Friendly Parish.  We started in 2019 when St Mary's Church agreed to develop part of the churchyard into a wildlife friendly area, with a wildflower 'meadow', bird feeders and nest boxes.  Activity has grown with a wildflower meadow in School Lane, a wildlife hedge in the churchyard, and wildflower and wildlife areas in other parts of the village.  We plan to scale up our activity over the coming years, improve habitats, and increase their connectivity for wildlife, linking with other habitats in the surrounding countryside.
In November 2020, our Parish Clerk spotted an opportunity for us to apply for a grant from the Cotswolds AONB 'Caring for the Cotswolds Scheme' to help us support wildlife in the parish.  Our application was supported by a good number of local stakeholders, some of whom pledged a significant amount of matched funding, which was amazing. Our application was successful, and the funding will be used to purchase information boards to go in key locations, and for the development of a 'nature map' and 'nature trail' for Tysoe.
Going forwards, we plan to engage residents and visitors through a range of activities.  We will provide monthly updates in the Tysoe & District Record and advertise specific events more widely.  You can also follow our Facebook account @tysoewildlife.  If you would like to find out more and/or get involved please contact Rosemary Collier via tysoewildlife@gmail.com.
Wildlife of the Month Articles
Rosemary has been contributing monthly nature articles to the Tysoe & District Record, together with the updates on the wildlife project.  Please see the extracts below or, for the complete copies,  see News.
2021
November 2021 – Defending Territories in the Natural World
October 2021 – Keeping Time in the Natural World
July 2021 – Wildlife and Technology, Making Space
June 2021 – White Flowers & Making Space
May 2021 – Delivering a Wilder Warwickshire, Making Space
April 2021 – Woodpeckers, Making Space for Nature & Poems
March 2021 – Barn Owls & Making Space for Nature 2
February 2021 – Wildlife Friendly Parish
2020
December 2020 – All about Mice & Making Space for Nature
November 2020 – Helping our Hedgehogs and Making Space for Nature
October 2020 – Batty about BATS, Wildflower Areas, Protecting Wildlife at Upton Estates
September 2020 – Marvellous Moths & Making Space for Nature
July 2020 Hare – Grasshoppers & Making Space for Nature