Even before the launch of The Making of Tysoe Project in March, a team of volunteers had already started transcribing St Mary's churchyard memorials as part of the project.  With lockdown now relaxed the group is back (keeping 2m apart).  Our drone-assisted plan has 446 surviving memorials; we have recorded about 300.  The final number may be higher as we unearth more or recognise stones as belonging to lost memorials.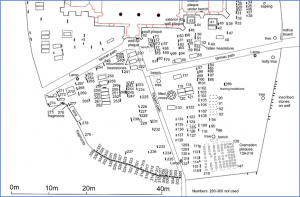 Grave memorials at the south side of the church.
Sunlight can both reveal or completely obscure lettering and decoration, depending on the time of day.   A good torch is essential, the best we've found is the blinding LED sort which cyclists use.   Sometimes taking a mobile phone photograph and fiddling with the contrast etc. can make inscriptions clearer and many epitaphs include scriptural quotes and a few words entered into Google on-site can often recover the full text.  One bitter 1790s epitaph runs: "This world is full of crooked streets/ Death is the marketplace where all men meets/ If life was merchandise that men could buy/ The rich would always live; the poor must die".  The family it commemorates had just been bankrupted.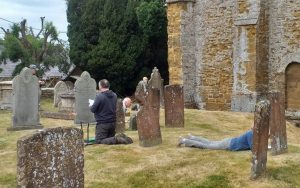 We use earlier surveys, parish records and historic photographs to fill out the story of the village families whose memorials we record.  Many earlier memorials were cleared periodically to make way for new interments and for ease of maintenance.  Those around the boundary wall are still accessible, but many were dispersed throughout the village.  Our earliest headstone – Paul Hiorn 1671 – is actually built into the boundary wall near the school.
We are keen to hear about reused inscribed stones which people might know of, and also memories of any clearance episodes, and any pre-1970 photographs showing the churchyard.  The aim is to make the survey results fully accessible to all.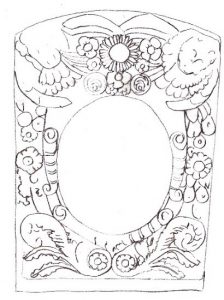 The sketch above is one of our most accomplished carved headstones, dated around 1740, erected for several members of the French family, located near the porch by the bench.
Please see Events page for July recording sessions (1100 – 1300 weather permitting).
David Freke
Email: frekedj@globalnet.co.uk